Five great reasons to choose childhood favourite retro sweets this Christmas
With the big day not far away now, thoughts turn to great gifts, fantastic stocking fillers and table dessert delights for all the family this Christmas.
One idea which will always bring a smile to the face of the recipient is to buy some
retro sweets
. Colourful, shiny, tasty reminders of spending precious pocket money at the corner shop, traditional favourites such as sherbet, cola bottles and Blackjacks can be revisited this Christmas in some fun ways.
Secret Santa
The office Secret Santa draw can be one which is unnecessarily stressful. Deciding what to buy someone you may not know very well and also on a low budget can send the best of present buyers into a spin.
Fear not though as with a selection of childhood favourites all packed into little white paper bags, you can put together an assortment of great choices such as Drumstick Lollies, Aniseed Balls and chocolate buttons and certainly not break the bank.
Hampers galore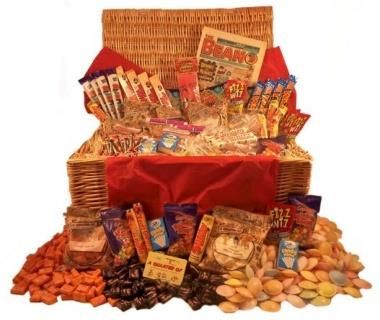 For a loved one with an incredibly sweet tooth or a gift for a family, a
huge hamper full of delectable sweet treats
will keep the recipient – or recipients happy for many days to come.
Present it in a wicker hamper and fill with bars of chocolate, toffee and bags of age-old classics such as Turkish Delight and top with colourful choices such as Liquorice Allsorts, American Hard Gums or mixes of jelly and gums in all shapes and sizes.
Stocking fillers
For children – old and young – receiving a bag of sweets tightly wrapped in the mystery of a plain white paper bag is great whatever time of year. At Christmas though, a selection of all their favourites in a bag which is then popped into their stocking is the perfect way to start Christmas Day. There's every chance they won't want breakfast after snacking on Chocolate Mice, Almond Nougat and Barratts Shrimps but they'll be starting the festive season in the best way possible.
Quirky desserts
Everyone may be full of turkey and stuffing but it's always incredible that there's always room which can be found for a pudding – especially at Christmas.
A really fun way to decorate a Christmas cake is to cover it with handfuls of sweets such as Apple Bonbons, Jelly Babies, Blackjacks and colourful lollies with a big swirl of Banoffee Pie flavour. As well as looking amazing, it's quick to create and a great way for those who don't excel at cake decorating to create a real showstopper.
Big film snacks
Settling down in the afternoon after Christmas dinner, it's time to watch the big movie of the year.
There's no better way to replicate the cinema experience than to have handfuls of pick and mix style sweets to snack on. To ensure all the family have lots to tuck into and to avoid the sound of the paper bags rustling as the film starts, choose traditionally Victorian shaped jars of favourites such as boiled sweets, Flying Saucers or various flavours of Jelly Beans.
Having large jars of goodies to pass around means there's always something for everyone and when the film is finished the lids can be popped back on until next time – unless they've all been eaten of course!
Genuine Customer Comments
Lucy
"Hi, I have placed a few orders now with A Quarter Of, my husband really loves the pick & mix jars. Every order I place arrives quickly and in perfect condition. Thank you every time! Loved the free Christmas candy canes this time too!! :)"
Lesley Jensen
"Wow what a service was told I would get them around 4-5th May all arrived on 1st well done my grandson loves them. He came to collect them on 2nd on his birthday social distancing of course."
Andrew Brown
See loads more reviews on our Wall of Love
Most Searched For Tuck Shop Sweets