A Bumper Birthday Bonanza Box! - Medium
Description
A Bumper Birthday Bonanza Box! - Medium - The perfect and oh so original Birthday pressie! We thought a specific Birthday-themed box of retro sweets would go down a treat, so we created this super-duper wooden chest of all your retro favourites! It's brilliant - and absolutely jam-packed with goodies... what a perfect way to wish your pal a very Happy Birthday! They'll be well impressed, and a trip down memory lane will make their birthday extra special.
The sweets inside the box weigh about 1.4kg and the wooden box measures 25cm x 15cm x 15cm (9.8in x 5.9in x 5.9in)... it's the perfect retro gift and feels lovely and solid.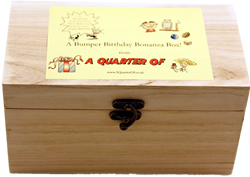 The box contains these delicious retro goodies - the lucky recipient will love it!
Jelly Bean Love Hearts, 250g
50 Flying Saucers
Fizzy Cola Bottles, 250g
Brown Gems, 250g
The Best Rhubarb and Custards You've Ever Tasted, 250g
4 Mini Love Hearts
4 Refreshers Chews
4 Mini Parma Violets
1 pack Candy Sticks
1 Sherbet Fountain
2 Dip Dabs
2 Sachets of Space Dust (Strawberry)
2 Wham Bars
2 Double Lollies
2 Drumsticks
(Please note: Very occasionally, we may be out of stock of an item. It's rare, but if it does happen, rather than hold up your order we will replace the item with a similar, equally nostalgic item - so you won't ever be disappointed!)
Customer Reviews

Nutritional Information
INGREDIENTS

Brown Gems (aka Jazzies or Jazzles):
Sugar, Palm Oil, Whey Powder, Wheat Flour, Wheat Starch, Cocoa Powder, Glucose Syrup; Emulsifier: Soya Lecithin : E322; Glazing Agents: Beeswax. Colours: Chlorophyll, Carotene, Betanin, Anthocyanins, Allergens: Gluten, Milk, Soya, Wheat

This item contains the following per 100g:

Energy (kj): 2074
Energy (kcal): 495
Fat (g): 22
Saturated Fat (g): 18.9
Carbohydrate (g): 71
of which Sugars (g): 53.6
Protein (g): 2.9
Salt (g): 0.2

Candy Sticks:
Sugar, Cornflour, Glucose Syrup, Palm Oil, Modified Tapioca Starch, Beef Gelatine. Allergens: May Contain Traces Of Milk

Dip Dabs:
Sugar, Glucose Syrup, Cornflour, Bicarbonate of Soda, Citric Acid, Tartaric Acid, Anti Caking Agent( Tricalcium Phosphate). Colours: Anthocyanins, Allergens: Sulphites

Double Lollies:
Sugar, Stearic Acid, Modified Starch, Acidity Regulator: Malic Acid; Cornflour, Magnesium Stearate, Anti Caking Agent: Magnesium Carbonate;. Colours: Anthocyanins, Copper Chlorophyll, Curcumin, Lutein, Paprika Extract, Beetroot

This item contains the following per 100g:

Energy (kj): 1745
Energy (kcal): 411
Fat (g): 3.5
Saturated Fat (g): 3.5
Carbohydrate (g): 93.4
of which Sugars (g): 90.5
Protein (g): 0
Salt (g): 0

Drumsticks - Original (Raspberry and Milk):
Glucose Syrup, Sugar, Vegetable Oil, Acidity Regulator: Citric Acid; Gelatine, Emulsifier: Glycerol Mono Stearate;. Colours: Anthocyanins

This item contains the following per 100g:

Energy (kj): 1753
Energy (kcal): 414
Fat (g): 6.3
Saturated Fat (g): 4.2
Carbohydrate (g): 87.9
of which Sugars (g): 87.9
Protein (g): 0.5
Salt (g): 0.1

Fizz Wiz Strawberry Popping Candy:
Sugar, Lactose, Glucose Syrup. Flavours: Carbon Dioxide, Allergens: Milk

This item contains the following per 100g:

Energy (kj): 1700
Energy (kcal): 400
Fat (g): 0
Saturated Fat (g): 0
Carbohydrate (g): 100
of which Sugars (g): 100
Protein (g): 0
Salt (g): 0

Fizzy Cola Bottles:
Glucose Syrup, Sugar, Gelatine, Citric Acid. Colours: E170, E150c

This item contains the following per 100g:

Energy (kj): 1448
Energy (kcal): 341
Fat (g): 0.11
Saturated Fat (g): 0.01
Carbohydrate (g): 78.4
of which Sugars (g): 65.8
Protein (g): 4.8
Salt (g): 0.04

Flying Saucers:
Sugar, Dextrose, Maize Starch, Tartaric Acid, Sodium hydrogen carbonate. Colours: E100, E132, E162, Allergens: Sulphites

This item contains the following per 100g:

Energy (kj): 1532
Energy (kcal): 361
Fat (g): 0.1
Saturated Fat (g): 0
Carbohydrate (g): 89.7
of which Sugars (g): 52.7
Protein (g): 0.1
Salt (g): 0.88

Jelly Bean Love Hearts:
Sugar, Glucose Syrup, Cornflour, Citric Acid. Glazing Agents: Carnauba Wax, Shellac; Palm Oil: Gum Arabic. Colours: Anthocyanins

Mini Love Hearts:
Sugar, Acidity Regulator: Malic Acid; Stearic Acid, Bicarbonate of Soda, Modified Starch, Magnesium Stearate, Anti Caking Agent: Magnesium Carbonate. Colours: Anthocyanins, Copper Chlorophyll, Curcumin, Lutein, Paprika Extract, Beetroot, Flavours: Flavourings

This item contains the following per 100g:

Energy (kj): 1664
Energy (kcal): 392
Fat (g): 3.1
Saturated Fat (g): 3.1
Carbohydrate (g): 87.6
of which Sugars (g): 85.5
Protein (g): 0.1
Salt (g): 2.1

Mini Parma Violets:
Sugar, Stearic Acid, Modified Starch, Glucose Syrup, Magnesium Carbonate. Colours: Anthocyanins

This item contains the following per 100g:

Energy (kj): 1742
Energy (kcal): 410
Fat (g): 3.4
Saturated Fat (g): 3.4
Carbohydrate (g): 94.7
of which Sugars (g): 93.5
Protein (g): 0.1
Salt (g): 0

Refreshers Chew:
Glucose Syrup, Sugar, Vegetable Oil, Citric Acid, Gelatine, Stearic Acid, Modified Starch, Emulsifier: Glycerol Mono Stearate, Magnesium Carbonate, Magnesium Stearate. Colours: Lutein

This item contains the following per 100g:

Energy (kj): 1744
Energy (kcal): 413
Fat (g): 5.8
Saturated Fat (g): 3.9
Carbohydrate (g): 88.1
of which Sugars (g): 87.6
Protein (g): 0.4
Salt (g): 0.1

Sherbet Fountains:
Sugar, Treacle, Wheat Flour, Cornflour, Bicarbonate of Soda, Citric Acid, Tartaric Acid, Liquorice Granules, Anti Caking Agent( Tricalcium Phosphate). Colours: Caramel, Flavours: Aniseed Oil, Allergens: Sulphites, Wheat

This item contains the following per 100g:

Energy (kj): 1584
Energy (kcal): 373
Fat (g): 0.4
Saturated Fat (g): 0.2
Carbohydrate (g): 91
of which Sugars (g): 82.6
Protein (g): 1
Salt (g): 3.25

The Best Rhubarb and Custard Sweets You've Ever Tasted!:
Sugar, Glucose Syrup, Citric Acid. Colours: Beetroot, Allergens: May Contain Traces Of Nuts, Sulphites

Wham Bars:
Glucose Syrup, Sugar, Palm Oil, Citric Acid, Milk Protein, Sodium Citrate, Safflower Extract, Spirulina. Colours: Curcumin, Anthocyanins, Flavours: Apple Juice Concentrate, Allergens: Milk, Soya

This item contains the following per 100g:

Energy (kj): 1577
Energy (kcal): 372
Fat (g): 3.5
Saturated Fat (g): 1.8
Carbohydrate (g): 84.7
of which Sugars (g): 49.2
Protein (g): 0
Salt (g): 0.18