1950s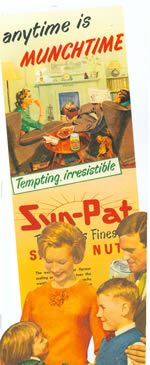 A Quarter Of isn't just about selling sweets… it's just as much about sending you on a trip down memory lane. So, if you're a child of the 50s, feast your eyes on these fab pages, filled to the brim with people's reminiscences – ranging from sweets, to food, to toys and games. It'll really take you back to the good old days!
Just click on each of the sections below to reminisce to your heart's content!!!

1950s Sweets
1950s Games
1950s Schooldays
We're trying to create an ever-growing record of 50s reminiscences, so we need YOUR HELP! We would love you to contribute any of your memories from 1950s British life - it could be related to anything at all: your favourite comic, your (measly, if any) pocket money or weekly treat, your family Sunday lunch... anything at all that has stuck in your memory all this time. Even better, we'd love to see any old pictures you may have. This is going to be a pretty fab historical document - you'll go down in history by contributing!
How to contribute! Simply email our in-house history anorak Sol on: sol@aquarterof.co.uk
All quotations in the above section were taken from a fab book by publishers Michael O'Mara, 'The 50s & 60s – The Best Of Times'. Our pals there gave us kind permission to use this fantastic material. If you want to read more (it's a cracking good read!), you can learn more at www.mombooks.com.
Genuine Customer Comments
Cathy
"Very quickly service. Love the selection of sweets"
Sara
"Sweets from yesteryear a real blast from the past and they tasted the same as I remember them. Some od the sweets were a gift and the recipiant was very happy 👍"
Daniel Martin
"Really great idea for a business and a nice way to cheer someone up without breaking the bank. Delivery was much quicker than expected too."
See loads more reviews on our Wall of Love
Most Searched For Tuck Shop Sweets