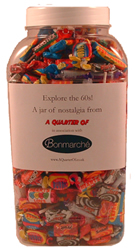 Are you struggling to find a quirky gift for an in-house event/promotion?
Are you bored to tears with the usual gifts available to send to your customers? Do you want your clients to remember your company with a smile, and associate you with a fun, quirky and humorous brand?
Well look no further!  We have the perfect solution to the challenge of finding memorable, effective promotional gifts – Corporate Sweets!
A Quarter Of can supply you with a whole array of smashing and unusual corporate sweets and promotional gifts – confectionery that will suit any budget and get people smiling. It's dead easy to arrange, and our nostalgia-driven products really get people reminiscing – a fantastic ice-breaker!
Flexibility is our middle name, and we have loads to offer, so if you see anything on the website that tickles your fancy, all you need to do is give us a call or drop us an email, and we'll whizz you over a quote within the same day.
Customised Personalised Corporate Sweets
And if you need corporate sweets for a promotion that is even more specialised then that's not a problem either.
As long as the quantities are large enough (they don't have to be massive!) and the deadline isn't too short (we usually need about a month for this) we can even create customised corporate sweets, tailored and personalised to your specific requirements – even to your own colour and flavour specifications. Visit our specialist customised corporate sweets section.
For example, we can create corporate sweets that feature your logo, corporate sweets of a particular colour… and even featuring your own chosen flavours (you can choose from a mammoth range!).  And if you want an odd combination… for example yellow strawberry flavour corporate sweets… that not a problem either!
Just Give Us A Call Or Drop Us An Email With Your Corporate Sweets Requirements
To discuss your specific requirements, or to get a speedy quote, feel free to contact our Corporate department. We'll answer any of your questions, and give you sweet-related ideas if you're not sure what you're after (we're full of 'em!).
Please email us at corporate@AQuarterOf.com or call us on 01254 262160, and tell us as much as possible to help us to help you. We'll get back to you quick smart with a quote!The sort of information that will really help us is:
How many items do you need?
Do you have anything in mind?
Do you have any special requirements? (e.g. colours)
When are the sweets needed?
Do you have a budget for us to work to?
Of course, if you can provide us with any more information, that's always a big help.
Just have a look at the companies we have provided customised sweets for, we're sure you'll recognise a few names…