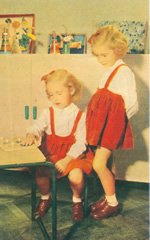 1950s Sweets…
I was born in 1949 just at the end of rationing – but I was only allowed to buy "ounzes". Thus once a week, I could choose 2oz (approx 50gms!) – usually dolly mixtures or those little alphabet sweets (as you stock). When older, my friends and I would make "sugar ally water" (excuse spelling) – liquorice wood (you stock) swirled in warm water in a jam jar – can't remember ever drinking it, you just chewed the 'wooden' stuff – like a bunch of tooth floss – always stuck in your teeth.

1950s School dinners…
cost 1/- (one shilling or 5p) in the 50s. If I skipped school lunch, went home with a friend, bought a hot pie for 11p it gave you enough change(1 pence) to buy a few toffee chews. Always a better bet than school dinners with peculiar meat (grey & gritty), very wet potatoes (meant to be mash) and always cabbage and always stinking! I did like the pink custard which was served regularly.
Best bit of 1950s school…
getting new plasticene – oooh the smell! It was to keep us quiet while the teacher did the register (v.important in Scotland -even when I became a teacher in the 70s). Spelling tests were v.important – hinted that you might fail for life if you didn't get 100% or was it the firing squad?
Charts of stars…
were also important – 10 coloured stars =1 silver star; 10 silver=1 gold. Just as important as the Olympics! You got a star for finished work and were allowed to stick it on the wallchart your self – lots of evidence of over-licked stars on charts (I couldn't believe it years later when I saw bags of stars on sale in the shops – I could have forged my results!)
Monday mornings in the 1950s…
meant Liberty Bodice days – tight little vests worn over your vest but hardened to armour like strength. You could break your arm trying to get into it on a Monday. Suspect it was a hangover form the 20s and flapper girls trying to have a flat chest – or perhaps 'Liberty bodice' was a modern version of the chastity belt!
A huge thank you to Sandra Callister for sending in these fabulous 1950s memories.